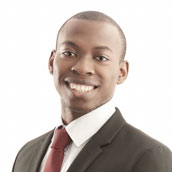 Tsepo Nwedamutsu
Consultant
Cape Town Office
Years of Experience: 6
Services
Tsepo was conferred an LLB degree cum laude and LLM degree in Comparative Labour Law with distinction on his thesis by the University of the Western Cape in 2015 and 2020, respectively.  He was awarded first position in his LLB programme and was part of the Dean's Top Achievers Programme, Dean's Merit List and a member of the Golden Key International Honour Society. He completed a module in Comparative Criminal Law and Procedure from Howard University, with distinction.  In 2016, he completed Law School at the University of Cape Town's School for Legal Practice, with distinction.  Tsepo practises in the employment law, corporate and commercial litigation departments, and has developed a particular interest in the fields of tax law, insolvency law and criminal law. He has represented clients in private arbitration proceedings, internal disciplinary and incapacity hearings, and has chaired disciplinary and incapacity hearings. His experience also extends to providing advice and opinions on commercial agreements, corporate governance, and employment law related matters, as well as drafting of various commercial agreements.
Tsepo is a member of the South African Society for Labour Law (SASLAW) and sits as a Committee Member of the Western Cape Chapter of SASLAW, a position he has held since 2018.
Tsepo has rights of appearance in the High Court and has appeared in the Labour and High Courts of South Africa, District Magistrates' Courts, Regional Magistrates' Courts and the CCMA. 
Contact:
+27 (21) 001 7876
BACK