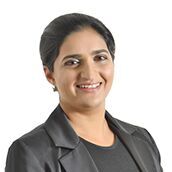 Shabana Hayat
Consultant
Cape Town Office
Services
Shabana obtained the degrees BA and LLB from the University of Cape Town in 2004. She first joined MacRobert Incorporated as a candidate attorney in 2005 and was admitted as an attorney in 2007. She practised in the Medical Division of the Cape Town office until 2009 when she relocated to Sydney, Australia.
While in Sydney, she gained experience as a medico-legal adviser to a medical indemnity insurance company and thereafter practised as a lawyer in the health law division of an international law firm specialising in insurance law litigation. Shabana returned to South Africa and recommenced practice in the Medical Division of the Cape Town office of MacRobert Incorporated in 2016.
Over the years, Shabana has regularly delivered presentations at conferences on a range of dispute resolution and risk management topics specifically relating to health professionals.
Contact:
+27 (21) 001 7876
shayat@macrobert.co.za
BACK