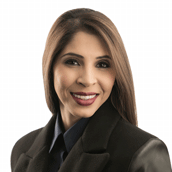 Leila Gani
Director
Pretoria Office
Years of Experience: 15
Services
Leila obtained her LLB degree from the University of Pretoria at the end of 2006 and then went on to complete an AIPSA diploma in Insolvency Law and Practice in the following year. She was admitted as an attorney during September 2008 and is pursuing a Masters' degree in Mercantile Law at the University of Pretoria.
Leila joined the MacRobert family as an Associate during 2010 having gained her experience at two other law firms in Pretoria focused on Corporate Litigation, Employment Law, Administration of Deceased Estates, Insolvent Estates and various other commercial matters. Having gained extensive experience during her time since joining the Firm, Leila was subsequently appointed as a Director and shareholder in 2012.
Her work in the corporate and commercial division of the Firm has exponentially progressed over the years and she was appointed as a director of Meritas, an elite global network made up of international law firms, heading up the African markets.
Contact:
+27 (12) 425 3450
lgani@macrobert.co.za
BACK