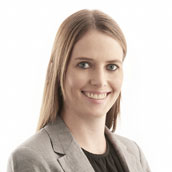 Karin Zybrands
Director
Durban Office
Years of Experience: 11
Services
Karin qualified with the degrees BCom (Law) and LLB from the University of Stellenbosch. She served her articles at MacRobert Attorneys and thereafter qualified as an attorney and notary public on 5 March 2010. After being admitted as an attorney, she practised in the Cape Town office until February 2017. In March 2017, she was appointed as a director in the Durban office.
Her practice includes general litigation, administrative law, drafting of antenuptial contracts and the assessment of damages claims. She further acts for and advises healthcare providers involved in litigation or regulatory matters or faced with complaints or ethical dilemmas.
Karin regularly presents lectures to a variety of healthcare providers and contributes to various publications, in particular on topics relating to medical law and ethics. She has right of appearance in the High Court of South Africa, the Supreme Court of Appeal and the Constitutional Court.
Contact:
+27 (31) 001 8905
kzybrands@macrobert.co.za
BACK