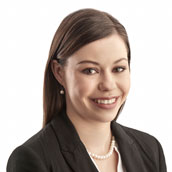 Jeanine Uys
Senior Associate
Pretoria Office
Years of Experience: 5
Services
Background, fields of specialisation and relevant experience
Academic and Professional qualifications: Jeanine obtained the degrees BA Law (Political Science, Afrikaans and Dutch, Philosophy) and LLB at the University of Stellenbosch. She was admitted on 27 February 2015.
Relevant courses and/or seminars attended: Jeanine has successfully completed a Certificate course in Customs and Excise Taxes at the University of Pretoria during October 2014.
Respective fields(s) of specialisation: Jeanine's practice is primarily focused on general and commercial litigation, High Court litigation, tax related litigation and insolvency.
Number of years of relevant (post articles) experience: She served as a candidate attorney at MacRobert Inc and gained valuable experience in various fields of the law. She was admitted as an attorney in 2015.
In 2015, she was appointed as an associate at MacRobert Incorporated in the Corporate Law Division. She has 1 year of relevant (post articles) experience.
Right of Appearance in the High Court: She has the right of appearance in the High Court and has appeared in the High Court of South Africa, Gauteng Division.
Contact:
+27 (12) 425 3626
juys@macrobert.co.za
BACK