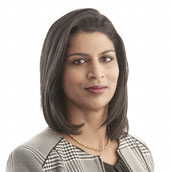 Jayashree Naidoo
Director
Durban Office
Years of Experience: 20
Services
Jayashree is an admitted attorney with a right of appearance in the High Court of South Africa. She joined the MacRobert team in 2012 in the Durban office and specializes in Professional Indemnity litigation.
She has thorough knowledge of medico-legal matters and has extensive experience in general High Court Civil litigation which she gained from working for several years at both Plaintiff and Defendant practices.
She has a thorough knowledge of professional liability and personal indemnity insurance and has represented and assisted members of the Medical Protection Society with various matters pertaining to clinical negligence claims.
Jayashree also assists medical practitioners in responding to complaints lodged via the Health Professions Council of South Africa and has a broad knowledge of the regulations governing medical practice.
Jayashree's day to day practice includes providing advice and support to medical practitioners involving general aspects of medical practice and procedure, legal rights and obligations together with conduct and ethical issues. Jayashree also assists in training of candidate attorneys and junior attorneys and supervision of the non-professional staff.
Contact:
+27 (31) 001 8905
jnaidoo@macrobert.co.za
BACK