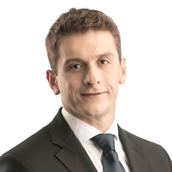 Gustaf Dreyer
Director
Pretoria Office
Years of Experience: 11
Services
Gustaf obtained his LLB degree from the University of Pretoria, where after he completed 2 years of articles at a prominent law firm in Pretoria. He was admitted as an attorney during May of 2010 and subsequently obtained right of appearance in the High Court of Pretoria.
To date hereof he boasts 11 years post admission experience in litigation. Gustaf joined the MacRobert's Professional Indemnity Department as an associate in April 2011 and thereafter transferred to the Personal Injury Department, where he was also successively promoted to a Director. His focus of practice is in personal injury claims, consisting of but not limited to, third party claims, wrongful arrest, slip and fall claims, dog bite claims and insurance law.
Gustaf also recently obtained a certificate from the University of Cape Town and Mediation in Motion for the successful completion of a course in Mediation for legal practitioners, which field of dispute resolution he now developed a passion for.
Contact:
+27 (12) 425 3557
gdreyer@macrobert.co.za
BACK