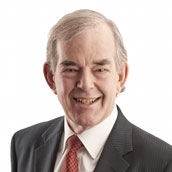 Gordon Hay
Consultant
Pretoria Office
Years of Experience: 48
Services
Gordon holds a B Comm LLB degree as well as a Higher Diploma in Tax Law. He was admitted as an attorney in 1973 and then joined MacRobert, where he was appointed director in 1975.
In 1995 he was elected Senior Partner and re-elected as such in 2000
Gordon specializes in general litigation, arbitration and alternative dispute resolution and labour law.
He has served as a member of the Executive Committee at the Pretoria Attorneys Association, as member of the Disciplinary Committee of the Law Society of Northern Transvaal, as director of Project Literacy and served on various other committees.
Gordon is highly respected in the corporate world for his problem-solving abilities and his expertise in the industry. He has pioneered MacRobert to evolve into one of the most advanced and respected law firms in South Africa, by aligning client needs with innovative ideas and alternate solutions to traditional approaches.
Contact:
+27 (12) 425 3452
ghay@macrobert.co.za
BACK