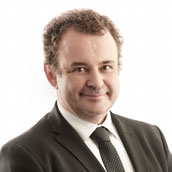 Gerhardt van der Merwe
Chairman
Pretoria Office
Years of Experience: 23
Services
Gerhardt has been involved in litigation for more than 20 years, since his admission as an attorney in 1996. He spent nine years specializing in criminal law, during which period he honed his court craft and cross-examination skills as he was required to appear in court on behalf clients on an almost daily basis. He has practised as a defendant attorney, representing practitioners in clinical negligence claims, regulatory matters, inquests, labour disputes and criminal cases since he joined the Cape Town office of MacRobert attorneys in 2003. Gerhardt was appointed as a director of MacRobert attorneys in 2007.
Gerhardt has developed particular knowledge of the legislation, ethical rules and guidelines relating to perverse incentives, questionable billing arrangements and appropriate business practices for practitioners and has represented medical practitioners, in person, at professional conduct enquiries held by the Health Professions Council South Africa involving a wide range of allegations. These have included allegations of professional negligence, sexual misconduct, fraud and billing irregularities.
Gerhardt is regularly invited to present papers on legal and healthcare-related topics at national conferences, local workshops and local CPD seminars.
Contact:
+27 (12) 425 3484
gvdmerwe@macrobert.co.za
BACK